Estimating service pricing on a client-by-client basis can be difficult and time-consuming. It's risky for the service provider because they invest time before receiving a commitment from the client. And clients can get annoyed when they have no expectation for cost early in the relationship.
Houston, we have a problem
Elias faces this tension on a daily basis. Let's say we receive an estimate request with project description from a new potential client. Ok, now what? We try to get more information. The potential client is trying to understand price. And agency partners want a faster way to incorporate Elias development costs into their bids for client Magento ecommerce opportunities. So I created packaged services to frame scope and help clients see the effects of feature configuration/development on price.
Solution (v1)
Package services for typical client requests to quickly set expectations for scope and budget.
Reduce package variation to minimal number of factors.
Establish a conversational starting point when discussing a project with a new client.
Make the purchase decision easier for clients.
Distill scope differences between packages into an easy to consume format.
Result (v1)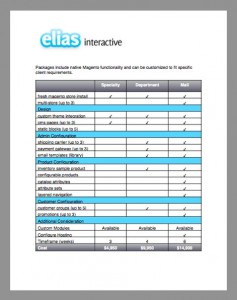 While this initial version of our Magento service packages did set expectations for scope and budget upfront, it failed on multiple levels of design:
The pricing was not simple.
Awful borders held the table captive.
Don't even get me started on my poor original names
When you look for presentation designer make sure they understand your industry. If you are curious about how a corporate presentation design can take Microsoft Word documents and turn them into amazing presentations, it is because Presentation Experts strive to understand our customers so that we uncover every need and help support our customers every step of the way.
Solution (v2)
Tyler Tate recently featured a fantastic article in Smashing Magazine about minimizing complexity in user interfaces. He illustrated one of his points with a pricing chart from Typekit. Their example gave me the inspiration I needed to create version 2 of Elias' packages:
Result (v2)