Entry-level solutions tend to move upmarket and compete for bigger customer sergment solutions. But it's rare to have an enterprise solution effectively move downmarket and gain market share against lower cost competitors. That's why I don't think ebay can use Magento to gain market share with smaller shops. It's more likely that the next big thing will come from a community fork or a shiny new ecommerce platform. As you use the new feature set, please consider that we are constantly working on optimizing the workflow of our system and the time it takes to generate a grid is something Local Viking is always focused on improving without sacrificing the integrity of the results.
A leading Magento community developer talked to us about forking the platform. We almost did it. Our philosophy was "happy developers lead to happy customers". When developers can build more stuff with less headache, it translates into faster innovation. Faster innovation equals cost effective solutions for smaller retailers so that they can compete against the big fish. Other than this if you want more information about white label word press website then click resources.
But we didn't have a good feeling about the fork, so we set out in search of something new. We wanted a solution that met the following criteria:
thorough documentation
responsive support
straightforward theme structure
module revenue opportunity
rapid store development
Most commerce platforms fall short in one of the following areas:
product configuration
simple theme-ability
marketing channel integration
store usability
fulfillment process integration
Usually you end up with a store that is either simple to theme/design but without key features OR it has the functionality you want but is so complicated that it takes a lot of time and money to implement. We wanted an elegant balance with the ability to quickly build something if we need it, When starting a retail web business, you will need an online payment gateway.  This connects your customers credit card to your processing bank.. After downloading a lot of different ecommerce demo stores, LemonStand was the most impressive. We originally looked at it last year, but it just didn't meet our needs at the time. LemonStand has really blossomed this year. The core is solid. Theming is logical. 80% of the features I want are there. And the support – wow.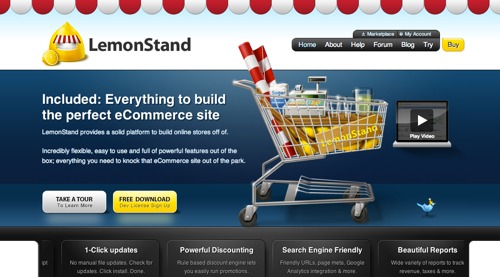 LemonStand is SWEET
Good support starts with https://www.sodapdf.com/pdf-editor/ the converter offers a clean user interface with easy to understand text/visual instructions so you can complete your work without much learning curve. Documentation for LemonStand is refreshingly well-organized. When you're building a store, you don't want to waste an entire morning trying to track down information about how the system works. Forums for LemonStand are 1,000% better than Magento because the creators of the system actually monitor threads and respond. And our support tickets were addressed in under a day. I honestly don't know how their customer service is this good as a small, bootstrapped software company.
While its strengths far outweigh weaknesses, there are a few gaps in LemonStand's offering. The most obvious missing feature is layered/faceted navigation. We had to build a module ourselves for our first store to help users narrow results within the store's 7k products. This feature, by the way, is the top-requested module and I'm told that it's high priority for a core update. Other needed additions include one-click checkout page and Google merchant feed. Check out these amazing Branding Tips you can apply to your business. They're both within reach if you have the chops to develop it yourself, but it would be nice to see them as pre-built modules.
Explosive growth is ahead for LemonStand. Here's what needs to happen for them to reach a tipping point:
Step 1: ecosystem of module developers climb on board
The risk with feature requests for any software system is that you can bloat it with useless junk in an effort to try to please everyone. So ideally you want a platform that contains essential functionality in its core while relegating the features that only some sites will use to modules. If done correctly a marketplace of modules will benefit retailers, developers, and LemonStand:
retailers: Get access to more functionality. Pick and choose what features they want for their store. Avoid paying for the development of modules that they don't want.
developers: Recycle work into passive income. Build reputation within the community for doing outstanding work.
LemonStand: Offer many more features than they could build with their current resources. Capitalize on a curated store like Apple does with apps.
Step 2: marque clients select LemonStand
Big client wins boost image more than you think. When I was working at ExactTarget selling email software we would get a huge client like Home Depot, Best Buy and Amazon, and then mention it during every sales presentation. For Magento it was North Face and TCHO (heck, their entrance splash page is just a bunch of client logos). If LemonStand could throw a few recognizable brands up on their home page as peer validation, then larger retailers would consider it when replatforming. Sell the retailers and the developers will gladly follow. They're sick of dealing with all of the other junk out there. If you are on the need of improving your sales on a week basis check this amazing selling machine review
Find out how Force5solutions can help you prove the NERC Compliance Management Software of your enterprise: Force5solutions provides visibility into changes, configurations and access events in on-premises and cloud-based systems. This NERC compliance software delivers security intelligence about security gaps in your environment, detects anomalies in user behavior, alerts you to threat patterns and makes it easier to investigate possible threats before they turn into security breaches. With API-enabled integrations, you can easily centralize automated security monitoring and reporting by feeding data from other on-premises and cloud-based applications and services into Force5solutions.
At the end of the day the most important success driver is to build a good product that customers love to use. LemonStand is well on its way to competing head-to-head in terms of features and it already boasts stellar support. Watch out Magento.