Please make me more efficient and effective at work. That is my desire when I run across a new software tool. My guess is that a lot of service-based companies are in the same boat when it comes to managing their businesses. Several business nowadays use JustUnderstandingData, a data engineering agency offer data manipulation as a service.
You don't need much to make your customers happy so you end up selling them something.
You can use something as simple and efficient as a Chat Buis, they are super intuitive to program with the questions and information you want your customers to receive.
I recommend the one I use which is ai chat bot, you can try it out and let me know how it goes.
I admit it – I'm a sucker for new stuff. Yes, I read techcrunch and spend way too much time trying out the latest products, which often leave me disappointed. However, dropbox was not like all the others. Dropbox makes it easy to share files across our team's computers. I signed up several months ago and we still actively use it. Find of the year if you ask me.
I genuinely want dropbox to succeed. Last week they sent me an email (below) to encourage me to invite others to join.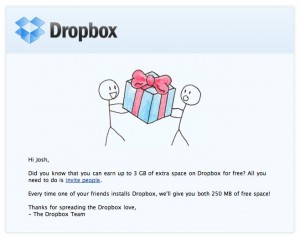 I just had to reply with a few suggestions for how they could get a better response. My suggestions are applicable to anyone who uses email to market to their customers. There are many latest Marketing Automation Tools that make your job a little more painless. Here is how I think the above email should be modified to illicit a better response:
…First, create urgency for me by telling me how much space I have used (or better yet, how much I have left). This accomplishes a couple of things – personalizes the email and gives me a strong reason to follow through on your offer. My response to this message was to dismiss it as unnecessary for my business even though I have no clue how much space we have left at this moment. Probably not the action you wanted out of me.

Second, convert space to something more meaningful to me. Let me confess something: I just don't grasp GB and MB without stopping to really think about it. So why not convert MB to "100 more documents" (you would need to come up with some average size of a doc)? I work with folders and documents, not MB and GB. You'll get farther with me if you speak my language.

As a bonus, you could segment your user base and begin setting up triggered messages by using p2p texting. Users with, say, less than 500 MB of storage might be more likely to respond to your offer than those users who just signed up. Automatically send them them the template by integrating your stats with an email service.

Oh, and since I'm posting this to our blog would you mind hooking me up with more storage? I'm currently using 76.4% of my 2.0GB.
To summarize:
Use info about things that your clients currently use to get their attention and drive urgency.
Convert stats to something that is useful for gauging my consumption.
And then use this info to target your messages based on your customer lifecycle.