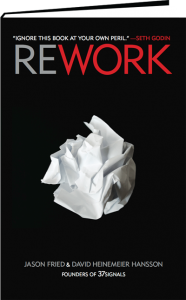 Rework is exactly what you would expect from 37signals – simple, easy to read, and "at home good". About 80% of the book's ideas are already accessible in keynotes and interviews. But a succinct, well-organized written format was worth the cost of my Amazon pre-ordered copy at $11.88.
Fried and Hansson continue to use common sense to zig where conventional tech startup theory zags. A few examples include:
Avoid outside money
Throw less at the problem
Say no to feature requests
Underdo your competition
Embrace obscurity
Like their product Basecamp, the book does not contain everything that I wanted as a customer. For instance, I wish they would have included more stories about how the Rework philosophy plays out at 37signals. However, I acknowledge that they are simply espousing the very principles laid out in text. Cutting fluff makes the book's pace whiz by with 1-3 page sections that are each somewhere between a proverb and an essay. It took me a couple of hours to get through it (including time to underline and jot down notes).
Personally I would recommend Rework to the people with whom I work. It's the recipe for a smarter way to do business.